6 of the Best Insoles for Weightlifting With Flat Feet

By

Babafemi Adebajo

Reviewed by

Michelle Meyer
Updated June 23, 2023.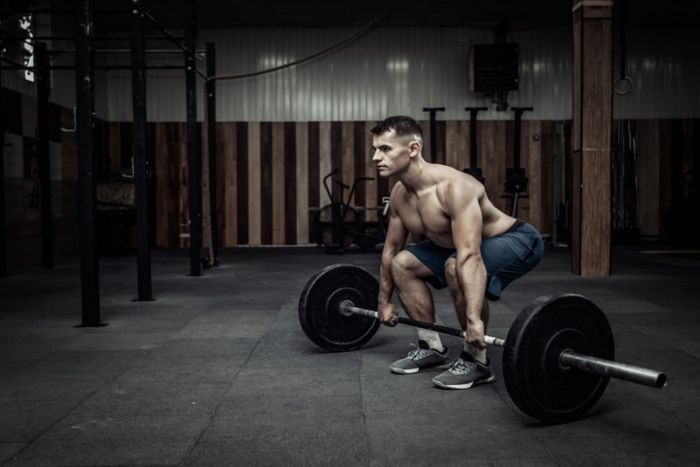 While weightlifting is not typically a high-impact sport, it does place your lower limbs and feet under intense strain—even more so if you have flat feet. Once the arches collapse, it negatively affects your posture and reduces your shock-absorbing qualities. This can increase your risk of injury, particularly to your knees, hips, and lower back.
Therefore, the importance of wearing (correct) insoles cannot be overstated. Using orthotics for flat feet while weightlifting can aid with foot alignment, provide cushioning and comfort, and improve stability and mobility while providing overall support. Below we've listed the most comfortable insoles for flat feet recommended for weightlifters.
1. Overall Best for Weightlifters With Flat Feet: Upstep Custom Orthotics
2. Best for Shoes With Removable Insoles: SOLE Active Thick Insoles
3. Best Semi-Rigid Arch Support: Superfeet FLEXmax Insoles
4. Best for Wide Feet: Tread Labs Pace Wide Insoles
5. Best for Shoes With Non-Removable Inserts: Protalus M-75 Insoles
6. Best Stability and Motion Control: URthotics Comfort+ Insoles
1. Upstep | Flat Feet Custom Orthotics
Pros
Custom-made

Designed by seasoned podiatrists

Adds stability and improves arch support

FSA and HSA eligible

180-day money-back guarantee
Cons
Short waiting period before you receive your insoles
Upstep Flat Feet Custom Orthotics improve arch support, weight distribution, and shock absorption. Designed by seasoned podiatrists, these insoles promote the alignment of the kinematic chain.
Upstep custom insoles cradle your foot contours, given that they're custom-fitted to your foot shape. This provides a strong base that adds stability to help the weightlifter take their game to the next level.
Upstep Flat Feet Custom Orthotics are affordable. Payment methods include FSA and HSA cards or interest-free installments via Klarna. Additional benefits include a 180-day money-back guarantee and free shipping and returns.
2. SOLE | Active Thick Insoles
Pros
Eco-friendly

Relieves pressure

Affordable

90-day guarantee
Cons
Molding process may result in an uncomfortable fit
SOLE Active Thick Insoles are designed to relieve pressure on your feet, a feature that's essential for weightlifters to minimize the risk of a foot injury. The insoles also give your feet extra cushioning and support.
SOLE insoles are best with footwear that has a removable insert. They're recommended for those who engage in high-pressure activities since they can reduce plantar fascia strain and increase balance.
SOLE insoles are eco-friendly and made from 100% recycled corks. It also features EVA that's made of 20% waste. Together, these form a footbed that you must mold to your foot shape after purchase. However, by conducting the molding process yourself there is a chance that the insoles may not provide a perfect fit or sufficient support.
» Still searching for the perfect fit? Discover the best insoles for wide feet
3. Superfeet | FLEXmax Insoles
Pros
Aerospring foam

Semi-rigid arch support

Comfortable

Durable
Cons
May need trimming which can cause an incorrect fit
Superfeet FLEXmax Insoles are semi-rigid arch support insoles with full-length Aerospring foam to support and cushion your feet.
Superfeet insoles come with a rounded edge and feature a flexible heel cradle. The specialized FLEXmax design allows the insole to provide long-lasting comfort for roomy footwear. Its structured heel cups stabilize your ankle while the contoured design redistributes weight across your feet and reduces joint stress.
However, these insoles may have to be trimmed to fit in your shoes. Trimming them incorrectly can result in an uncomfortable fit.
4. Tread Labs | Pace Wide Insoles
Pros
Medical-grade

Firm arch support

Comfortable thick top cover

Million mile guarantee
Cons
Not tailor-made

Customers' unique foot needs not addressed
Tread Labs Pace Wide Insoles are medical-grade insoles that support your foot arches, improve alignment, and bring pain relief. Weightlifters with flat feet will benefit from the arch support and deep heel cups. The thick top covers give added comfort.
These insoles are affordable, including interest-free installments via ShopPay. Tread Labs's million-mile guarantee covers these insoles if they crack or lose their shape.
While these insoles are better suited for wide feet, they're not custom-made and don't address your foot needs directly.
5. Protalus | M-75 Insoles
Pros
Tri-planar technology

Anti-slip ridges

EVA foam body

Affordable

90-day money-back guarantee
Cons
Multiple sizes may not provide a perfect fit
Protalus M-75 Insoles are semi-rigid orthotic arch supports that improve cushioning and comfort while walking. The 3/4-length insoles are best for wider shoes with non-removable inserts. These insoles aim to benefit anyone with flat feet as well as limit overpronation by keeping your ankle in a neutral position and maintaining the integrity of your arches.
Protalus M-75 insoles use patented tri-planar technology and anti-slip ridges to improve balance and stability. An EVA foam body improves cushioning, and a moisture-wicking top cloth reduces moisture to control odor and slippage.
While these insoles are available in multiple sizes, you may not necessarily find the perfect fit.
6. URthotics | Comfort+ Insoles
Pros
Custom-made

Comfortable

Provides stability and motion control

Deep heel cup for pain relief

FSA and HSA eligible

6-months money-back guarantee
Cons
Waiting period before receiving your insoles
URthotics Comfort+ Insoles guarantee extra comfort for your feet. These insoles are also tailor-made by podiatrists who factor in every detail about your foot shape, needs, and biomechanical state to create unique custom orthotics for you.
The custom base provides stability and motion control, while the deep heel cup offers pain relief and protection. Additionally, URthotics custom insoles are FSA and HSA eligible and come with a 6-month money-back guarantee.
» Find out why different athletes experience different benefits from orthotics
Final Verdict
Custom orthotics remain the best bet for weightlifters with flat feet. Asides from being designed to your exact foot specifications, they factor in the intended use and help optimize performance during weightlifting activities.