7 Best Cycling Shoe Insoles for Flat Feet

By

Babafemi Adebajo

Reviewed by

Michelle Meyer
Updated March 31, 2023.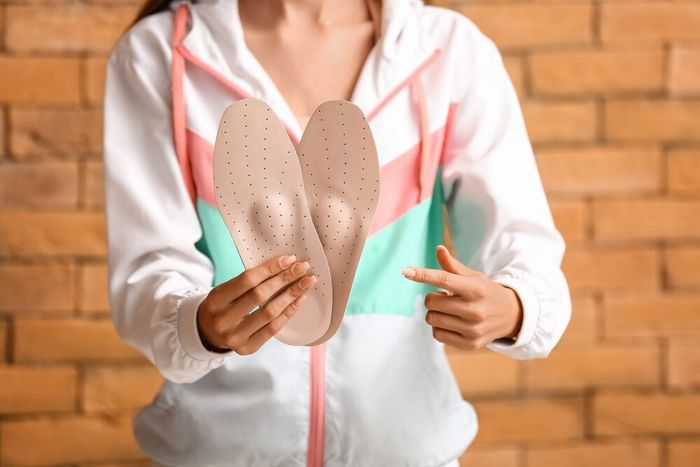 Having flat feet is a disadvantage when it comes to cycling. Apart from contributing to pain due to repetitive stress, it reduces your ability to pedal optimally. While cycling shoes can help bridge some of this gap, a proper cycling shoe insole for flat feet will do more.
Knowing an insole for flat feet will help is one thing. Choosing the right one with the different types available on the market is quite another. That's why we have reviewed the insoles on the market and listed the best cycling shoe insoles for flat feet below.
» How can you treat flat feet? Try these exercises for flat feet
With research suggesting that custom orthotics are better for flat feet than prefabricated ones, Upstep cycling custom orthotics rank highest in our list of cycling shoe insoles for flat feet.
They're designed by professional podiatrists using your unique foot impression and personal lifestyle information. The insoles are made of high-quality materials, have a durable polypropylene shell, high-quality top covers, and well-cushioned middle layers to guarantee comfort every time.
The benefits of cycling orthotics include durability, maximum support and comfort to the foot, limited overpronation, and easier pedaling during cycling.
» Do you need additional support while cycling? Compare the best cycling shoe insoles for arch support and plantar fasciitis
Upstep flat feet custom orthotics are somewhat different from cycling custom orthotics as they directly address your flat feet condition. They have a reinforced heel counter and moderate arch support to maintain body alignment.
Additionally, Upstep flat feet custom orthotics are affordable, and you can pay in installments or with your FSA and HSA insurance.
» Looking for everyday flat feet orthotics? Consider these best insoles for flat feet
SOLE performance thin insoles score extra points because of their metatarsal pads which help relieve pain in the balls of your feet and support the natural spacing of the metatarsal bones.
They come in multiple arch heights and help promote natural foot alignment, minimizing overpronation due to flat feet. They also have a 1.6 mm cushioning underfoot, ensuring everyday comfort during activities.
SOLE Performance insoles are not custom fitted. Instead, they're heat- and wear-moldable, so you can get a fit that's as close as possible.
Tread Labs Dash insoles are rigid insoles made from carbon fiber, making them light and super-thin. These are performance insoles meant to improve foot biomechanics and aid optimal energy returns during physical activity.
Apart from having thick arch supports, these insoles also have 5mm thick, ventilated top covers to prevent your foot from sweating too much. Dash insoles come in four different arch heights. While the low and medium arches are the most suitable for flat feet, they're less effective than custom orthotics that would fit your foot perfectly.
Superfeet Trailblazer Comfort insoles have a very unique shape and help to stabilize the foot on all kinds of terrain, including very rough ones. Its features include a deep heel cup to stabilize the ankle joint and two layers of heel-to-toe cushioning to reduce fatigue and provide comfort.
While Superfeet trailblazer comfort insoles are affordable, they provide a short-term solution to a long-term foot challenge. They're not as durable and may need replacement often.
Protalus T-100 elite insoles give the necessary arch support for all foot types. The insoles are full-length with semi-rigid orthotic arch support and a tri-planar system that keeps the ankle joint aligned and the foot stable.
They're also made with moisture-wicking fabric and microbial lining to remove any odor from your feet if you sweat a lot. However, these insoles are not custom-fitted and come in specific sizes that may warrant trimming to fit foot contours.
Like the Upstep insoles, URthotics Comfort+ insoles are also custom fitted to the foot. They're designed not just based on the foot contour but also on any pre-existing foot conditions and potential activities. Ideally, URthotics comfort+ insoles are best for those with sensitive feet.
While these insoles can be expensive, and unfortunately there are no options to pay in installments, you can purchase the orthotics with HSA and FSA cards.
Final Verdict
In the end, your choice of an insole depends on you. However, if you want quality and want to make a long-term investment, we recommend choosing custom orthotics. These insoles are customized to your feet and needs, thereby giving you the best support. Also, if you don't want to spend time breaking in your insoles, your custom orthotics will be ready to wear when you receive them.
» Are custom orthotics beneficial for all sports? Explore the benefits of orthotics for different athletes