7 Most Comfortable Golf Shoe Inserts for Women With Flat Feet

By

Babafemi Adebajo

Reviewed by

Michelle Meyer
Updated February 16, 2023.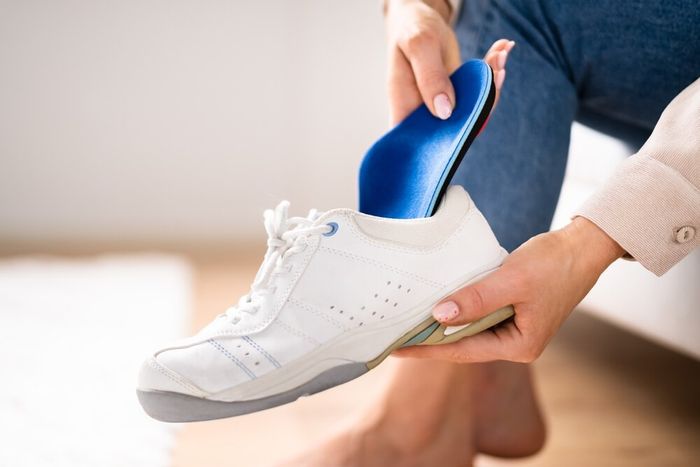 Flat feet often result in pronation. This means that, apart from increasing the risk of injury, the efficiency of energy transfer between the foot and the ground is reduced, causing discomfort and preventing optimal performance. As a golf player, this influences your stance and therefore your game.
While getting the right golf shoes can limit this inefficiency, it won't restore your foot arch. It's also difficult to find a golf shoe that fits properly, provides comfort, and improves performance. Therefore, getting a golf insole is an easy solution that can realign fallen arches and help improve your golf game from the ground up.
But there are so many insoles for flat feet on the market, each with its advantages and disadvantages. How do you choose? Below we've compiled seven of the best golf shoe inserts for women with flat feet for your easy reference.
Upstep Golf Custom Orthotics are an affordable solution tailored toward golfers. Designed by professional podiatrists, these custom orthotics aim to help you stabilize your swing and soften any side-specific pressures.
You will also receive maximum support for your foot arches, keeping them naturally aligned and in position. Custom orthotics are made specifically for you and your needs, therefore whether you're left- or right-handed is also taken into account—all in the effort to optimize your performance.
Finally, Upstep's insoles have high-quality top covers and cushioned mid-layers to guarantee comfort while you're on the golf course.
» Should golfers wear orthotics? Discover the benefits of orthotics for golfers
Upstep Flat Feet Custom Orthotics aim to be long-term solutions to flat feet by reducing damage and easily fitting into your golfing lifestyle. Each case of flat feet may have different underlying causes, therefore a custom pair of insoles are made specifically for you and address your needs.
Apart from holding up your foot arch, these orthotics are also durable and well-cushioned, providing effective support.
Additionally, Upstep's insoles come with a risk-free 120-day-money-back guarantee that allows you to return the insoles and are HSA/FSA eligible.
Made from recycled wine corks, SOLE Performance Thick Insoles provide cushioning and balanced support. It also has a deep heel cup that stabilizes the heel and prevents sliding from left to right, improving your stance and performance. Additionally, its Polygiene-treated fabric will also keep your feet smelling fresh for as long as possible.
However, these insoles may not fit in your golf shoes and do not come fitted. They are heat- and wear-moldable, but this is not as effective as custom orthotics and may not provide maximum support.
The Protalus M-75 Insoles are ideal for larger shoes with non-removable factory insoles. Their tri-planar alignment system guides your body into neutral alignment, improving your balance and stance. These insoles aim to provide comfort and support with each step with their pressure-reducing higher sides.
The Protalus M-75 Insoles are easily purchasable over-the-counter and are sold in specific sizes but can be trimmed if necessary. Therefore, these insoles may not provide optimal support because the fit is not perfect like custom orthotics would be.
Superfeet Widegreen Insoles come with a 60-day comfort guarantee because of their stabilizer cap, extra wide and deep heel cup, and high-density foam—all geared towards offering maximum support and comfort.
These insoles are easy to move and adjust, however, they can get squeaky because of this. Additionally, these insoles may not be as durable when compared to competitors and may wear out quickly.
Tread Labs Pace Insoles are affordable and ideal for golf shoes with full-length removable inserts. They're designed to address overpronation because their molded polypropylene arch support ensures stability, support, and balance during your game.
Additionally, Tread Labs Pace Wide Insoles have a cushion foam top cover that keeps your feet comfortable while improving alignment.
However, these insoles are not custom-made. Instead, they're available in different sizes and arch heights, so they don't match your feet or needs exactly.
URthotics Active/Sports Insoles ensure you get professional-grade inserts that factor in your unique foot shape and activity level. These insoles are custom-made based on a mold of your feet.
The top covers of these insoles are made from EVA materials, thereby guaranteeing comfort, while their deep heel cups ensure maximum impact absorption and foot stability. URthotics insoles are effective but can be expensive when compared to competitors.
Final Verdict
Because of the negative impact flat feet can have on your golfing game, it's important to choose insoles that will address your needs and improve your performance. Each case of flat feet can be different, therefore you run the risk of less-than-optimal support from standard or over-the-counter insoles. Custom orthotics tailored toward your foot shape remove this risk and give you the maximum comfort and support you need to dominate on the golf course.
» Experiencing knee pain while golfing? Find out how orthotics can help prevent golfer's knee