5 Best Insoles to Wear While Squatting to Aid in Heel Elevation

By

Babafemi Adebajo

Reviewed by

Michelle Meyer
Updated March 31, 2023.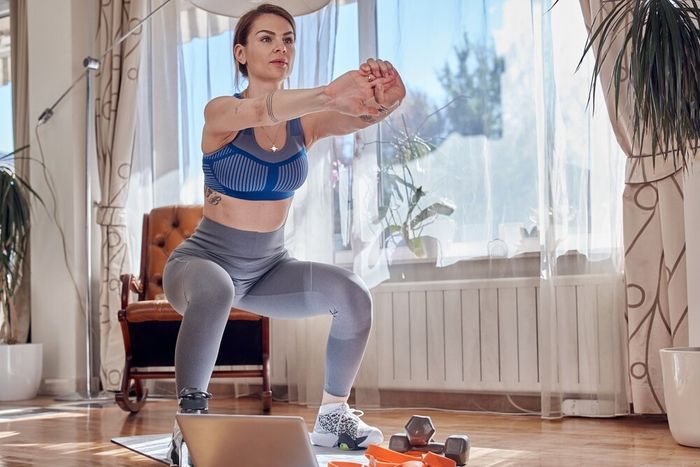 Squatting is a popular exercise for anyone looking to keep fit. It targets several muscle groups at the same time, including the quadriceps, glutes, hamstrings, and core abdominal muscles. As simple as it may seem, squats can cause injury when not performed properly.
If you're going to start a routine that includes squatting, but remain unsure about where to begin, getting the right shoes is a good start. However, beyond what a shoe can do, the right insole can improve your squats by aiding heel elevation, boosting stability, and improving your range of movement.
Below we've compiled a list of the best five insoles to wear while squatting to aid heel elevation.
Designed by podiatrists with years of experience, Gym Custom Orthotics are ideal for those looking to perform indoor workouts. Using durable materials that caress every inch of your feet, these custom insoles help to improve stability, reduce pain, and protect you from injuries throughout your workout—making them ideal for squatting to aid heel elevation. A moisture-absorbent top layer also helps to reduce any odor.
Upstep insoles are affordable, being eligible for both FSA and HSA, and come with a 180-day money-back guarantee, including free adjustments.
Tread Labs Ramble Insoles are flexible yet supportive. Designed for shoes with full-length, removable inserts, these insoles keep your foot neutrally aligned and in a proper weight-bearing position, making them ideal during squatting.
Tread Labs Ramble Insoles have a 2-part system that includes an arch support and a top cover that can be replaced if it wears out. The top covers are made from polyurethane foam and 100% recycled polyester fabric, making them resilient. They're also treated for microbes to reduce foot odor.
When you first start using the Ramble Insoles, the support may feel excessive, but you'll get used to the feeling within a week or two. A drawback of the Ramble Insoles is that they're not custom-made. Instead, they're available in four specific arch heights (low, medium, high, and extra high), possibly making their support less than ideal.
SOLE Performance Wide Medium Insoles are affordable and made from recycled wine corks, offering you a cushioned footbed that absorbs shock, provides comfort, and protects your feet during weight-bearing.
These insoles have a deep heel cup that prevents lateral ankle bone movement during squatting and a solid arch support that keeps the heel elevated.
Unlike custom orthotics, SOLE Performance Wide Medium Insoles are not tailored to your foot size, but are heat and wear moldable, thereby possibly giving you a less-than-ideal fit. You can return them within 90 days of purchase and get a replacement if you're dissatisfied with your purchase.
The Protalus M-100 Insoles feature a Tri-Planar Alignment System that improves body alignment and functioning. The high arch support keeps your foot arch up and reduces pressure, while the rebound foam and anti-slip ridges provide mobility and additional stability.
Protalus M-100 insoles have a semi-custom fit and come in a range of sizes to pick from. The fit may therefore not be perfect and require some trimming. However, these insoles have a 90-day guarantee to ensure your satisfaction with your purchase.
Superfeet Orange Insoles are specifically designed to cater to the needs of persons involved in high-impact activities. These insoles have a deep heel cup and an additional stabilizer cup that positions and stabilizes the heel. A high-impact foam forefoot provides extra support and shock absorption, which is especially useful during squats.
Superfeet Orange Insoles are affordable and durable, guaranteed to maintain their shape, comfort, and support for the first 12 months or 500 miles (whichever comes first). Finally, the natural top coating controls bacteria and therefore odor.
However, while these insoles are available in a variety of sizes, they aren't tailored to your feet and may require trimming. You may possibly not obtain the perfect fit and support.
Choose Wisely
Elevating your heels during squats will increase the depth of your squat and help transfer force to your quadriceps. With a proper insole, you'll not only improve your squat but you'll also keep the ankle in a neutral position, preventing injury.
Orthotics provide the necessary support for your arch, cushion the feet, and aid shock absorption. Of these, custom orthotics yield the best results. Based on your feet and your needs, custom orthotics will support your unique foot shape in a way other orthotics can't.
» Want to see more custom orthotics? Discover more of the best insoles for weightlifting