7 Best Insoles to Treat Calf Pain in Athletes

By

Janik Sundstrom

Reviewed by

Korana Braun
Updated July 6, 2023.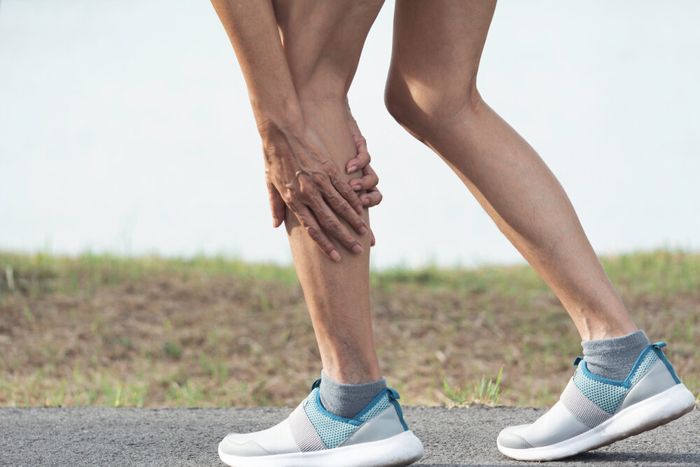 Calf pain is a common issue that many athletes face. Whether it's due to overuse, muscle strain, or improper footwear, finding the right solution is essential for recovery and performance.
While you may be overwhelmed by the choices in the market, we'll give you an overview of the best insoles to help you narrow your options so you can reap the diverse benefits of wearing orthotics.
7 Best Insoles for Calf Pain in Athletes—Recommended by Top Podiatrists
1. Upstep Multi-Sports Custom Orthotics
2. SOLE Softec Response Insoles
3. Superfeet Flexthin Insoles
4. Protalus T-100 Elite Insoles
5. URthotics Active/Sports Insoles
6. Tread Labs Dash Insoles
7. FitMyFoot Full-Length Insoles (Orange)
Importance of Orthotics for Athletes
Athletes are prone to developing calf pain because of the physical activities they do, especially if it involves high-impact activities or high running volumes. This places strain on the soleus muscle in the lower leg, resulting in calf pain. There are ways to mitigate and prevent the development of calf pain in athletes while reducing the prevalence of injury in the long term—including the use of insoles.
Knowing How to Choose the Right Insoles
Good, quality insoles provide athletes with the necessary foot arch support and proper foot alignment, guaranteeing increased comfort and relief from foot pain. The added support helps to distribute pressure evenly across the foot during physical activities, reducing the risk of developing problematic foot conditions.
What's more, insoles can contribute to sports injury prevention. However, not all insoles are the same, and there are several factors you should consider when choosing the right insoles, such as:
Arch support:

Look for insoles that provide adequate arch support as this will help distribute weight evenly and reduce strain on the calf muscles.

Cushioning:

Choose insoles with sufficient cushioning to absorb shock and reduce the impact on the calves during athletic activities.

Material:

Consider insoles made from high-quality, durable materials that can withstand regular use and provide long-lasting support.

Stability:

Insoles that offer stability will help improve biomechanics and prevent excessive pronation or supination, which can contribute to calf pain.

Breathability:

Opt for insoles that allow for proper air circulation to keep feet cool and dry during intense physical activity.
Keep in mind that every athlete may have different requirements when it comes to insoles, as various sports and activities may require different support and cushioning. So, when choosing insoles, it is important to consider both general comfort and support, as well as the specific needs for sport-specific movements.
If calf pain persists or is severe, it's important to seek professional advice from a sports medicine specialist or podiatrist. They will conduct a thorough assessment of your foot and lower leg biomechanics and recommend specific treatment.
7 Best Calf Pain Relief Insoles for Athletes
1. Upstep Multi-Sports Custom Orthotics
Upstep Multi-Sports Custom Orthotics are versatile insoles designed to improve your quality of life by reducing pain and providing optimum comfort for your feet. The insoles aim to support your feet throughout your athletic activities by improving their overall function and health. 
These affordable custom orthotics are specifically molded to the shape of your feet—you can even complete the molding process in the convenience of your own home.
Comfort is provided through the combination of high-quality cushioning material layers that support the crucial areas of your foot. Upstep's custom orthotics are an ideal choice for all-around activity by absorbing impact and keeping you injury- and pain-free through all your physical endeavors.
Pros
Custom-made by top podiatrists

Designed for sport and the stress it places on your body

Moisture absorbent top layer

Quality cushioning

Provide optimum comfort

Extremely durable

180-day money-back guarantee

Klarna payment available

FSA & HSA eligible
Cons
Short waiting period before receiving custom orthotics
Expert Insights and Recommendation
Custom-made orthotics tailored to an athlete's unique foot structure and biomechanics address the underlying causes of calf pain, reducing the risk of future injuries. They provide precise control and stability to the foot and ankle, promoting efficient movement patterns and enhancing overall athletic performance.
2. SOLE Softec Response Insoles
The SOLE Softec Response Insoles provide moderate cushioning to your feet during your physical activities and aim to reduce the strain placed on the plantar fascia under your foot, thereby reducing calf pain by extension. The insoles distribute weight and pressure equally throughout your foot to promote natural foot alignment during sports activities.  
However, the orthotics aren't directly molded to your feet like custom orthotics. Instead, you're required to heat and mold the insoles to the shape of your feet after purchase, increasing the chances that they may not fit optimally.
Pros
Cushioned footbed

Medium thickness

Shock-absorbing

Anti-microbial coating that prevents odor and bacteria

90-day footbed guarantee
Cons
Not custom-made

Heat moldable and may not fit optimally
3. Superfeet FLEXthin Insoles
The Superfeet FLEXthin Insoles provide stability and support to your feet through a contoured design and a supportive, flexible heel cradle. The insoles further provide comfort and support to your feet under weight-bearing and reduce the repetitive impacts placed onto the structures of the lower leg. 
The insoles are designed to fit well in slim-fitting footwear and can be trimmed to fit the shoe correctly. However, it's not custom-made, therefore you may not get maximum performance.
Pros
Flexible heel cradle

Comfortable support

Shock absorption

Odor control

60-day return policy
Cons
Not custom made

Not suitable for all shoe types

May require trimming
4. Protalus T-100 Elite Insoles
The Protalus T-100 Elite Insoles provide moderate support throughout the entirety of your foot during physical activities and are geared to address foot pain experienced by athletes. The materials used aim to reduce shock in your feet while providing arch and overall foot support. 
The insoles are purchased complete and require you to remove the insoles of your shoes before inserting the Protalus T-100 Elite Insoles. You have the option of trimming the insole down to fit the shoe correctly. This insole is designed for standard volume, and low-profile style shoes, and could potentially be uncomfortable for some users. The insoles have also been reported to not be durable in the long term.
Pros
Deep heel cup

Moderate support

Shock-absorbing

Does not require a break in period

Moisture-wicking capabilities

Prevents stress and fatigue with proper foot alignment

30-day return policy
Cons
Not custom made

May not fit all footwear

Not as durable

May require trimming
5. URthotics Active/Sports Insoles
The URthotics Active/Sports Insoles cater to foot and ankle pain, including plantar fasciitis and generalized discomfort during physical activities. These insoles reduce shock and provide stability to your feet. 
However, these insoles are geared more toward people who live an active lifestyle and not necessarily athletes engaging in strenuous physical activities. What's more, you need to articulate the foot condition clearly in the paperwork that comes with the foot impression kit, which may be a bit complicated.
Pros
Custom-made

High impact-absorbing

Custom arch support

Stability and motion control

​​FSA and HSA eligible

6 months money back guarantee
Cons
No interest-free installments

Complicated paperwork

Risk of error when completing paperwork
6. Tread Labs Dash Insoles
The Tread Labs Dash Insoles provide ultra-firm support in an effort to improve support and overall performance in physical activities. These orthotics are aimed at people who experience foot pain while exercising and for those who have flat feet. But these insoles may not be able to adequately improve the symptoms of calf pain that you may be experiencing.
Pros
Ventilated top cover

Durable material

Available in 4 arch heights

Suitable for active lifestyles

Million-mile guarantee

90 days return policy
Cons
Not custom made

May require trimming

Due to design, may not be as comfortable in front of your feet
7. FitMyFoot Full-Length Insoles
These orthotics feature a shock-absorbing supportive design, aimed at providing your feet with comfort and stability to reduce foot pain. The flexible design works to restore your foot alignment and reduce foot fatigue. In order to get your custom insoles, you need to take photos and measure your feet on the mobile app. The insoles will then be 3D printed and sent to you.
But while the FitMyFoot Full-Length Insoles may be effective in reducing foot pain, they may not be as reliable in managing symptoms of calf pain.
Pros
3D printed using measurements via mobile app

Excellent shock absorption

Can alleviate foot pain

Reduce foot fatigue

30-day return policy
Cons
App precision

Can't be trimmed to fit shoe size
Stepping Towards Calf Pain Relief
After exploring the 7 best insoles for calf pain in athletes, it's clear that finding the right support can make all the difference.
These insoles have proven to be effective in helping to alleviate calf pain in athletes, promoting proper foot alignment during sports activities. However, opting for custom-made orthotics is definitely the best way to ensure you receive the necessary support and cushioning.
Custom-made orthotics are specifically designed for you, addressing your needs based on the shape and structure of your feet, all the while being durable and absorbent to moisture.
Upstep's Multi-Sport Custom Orthotics are crafted by top podiatrists and are made to help athletes alleviate calf pain and continue performing at their peak. Step into comfort with Upstep's custom sports insoles!
How We Selected the Best Insoles
In our quest to select the best insoles for treating calf pain in athletes, we reached out to a diverse group of experts, including sports medicine professionals, podiatrists, and orthopedic specialists. Their insights and recommendations played a crucial role in our decision-making process.
The consensus among these experts was unanimous: custom orthotics and sports insoles can be highly beneficial for athletes experiencing this type of pain because:
They provide appropriate support, cushioning, and corrective alignment

Quality insoles help alleviate calf pain

They enhance comfort during physical activity

They reduce the risk of future injuries
Why Trust Us?
Sports medicine professionals, podiatrists, and orthopedic specialists all confirmed that customized insoles are especially important for athletes.
Our podiatrists use a personalized approach to address individual foot mechanics and cater to the specific demands of different sports and activities. All Upstep's custom orthotics prioritize proper foot alignment, shock absorption, and targeted support to provide optimal relief and aid in the prevention of pain associated with various activities.