7 Best Insoles for Hiking Boots—Get Arch Support for Long Walks

By

Babafemi Adebajo

Reviewed by

Michelle Meyer
Updated June 22, 2023.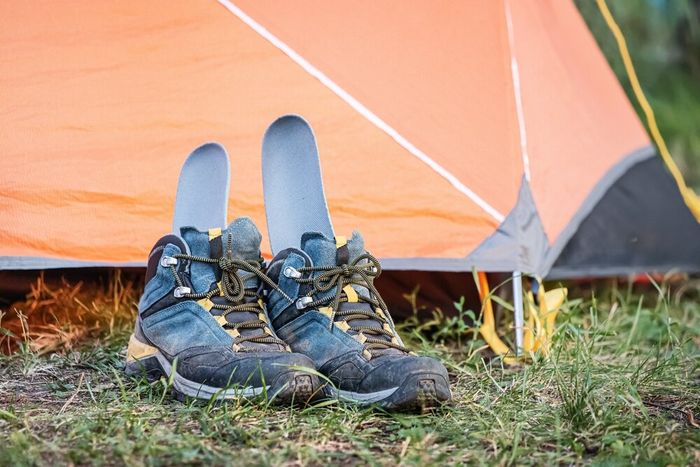 While many people aren't bothered about the insoles in their shoes, athletes, runners, and hikers need all the extra support and comfort they can get. The average hiker wants a firm, supporting insole in their hiking boots to guarantee a pain-free experience during and after hiking.
When you're faced with many choices, you may choose the wrong insole on a whim. To avoid such an uninformed guess, we have carefully selected seven insoles for you to consider. Let's look at their benefits and differences.
Top 7 Hiking Boots Insoles Recommended by Expert Hikers
Best Overall Insoles:

Upstep Fitness Walking & Hiking Custom Orthotics



Best Stabilizing Insoles:

Superfeet Trailblazer Comfort

Best Thick Insoles:

SOLE Active Thick

Best Firm Insoles:

Protalus M-100 Elite

Best Shock-Absorbing Insoles:

Tread Labs Pace

Best Pain-Relieving Insoles:

URthotics Comfort

Best Foam Insoles:

FitMyFoot Black Full-Length


Pros
Custom-made by top podiatrists

Comfort and extra cushioning

FSA and HSA Eligible

180-day money-back guarantee
Upstep Fitness Walking and Hiking Custom Orthotics are custom-made to fit your feet for the utmost in comfort and support. Professional podiatrists custom-make each set of insoles with the help of customer-supplied foot impression kits, premium materials, and state-of-the-art machinery.
If you put Upstep insoles in your hiking boots, you won't have to worry about blisters or sore feet no matter how rough the terrain gets. Furthermore, what's the deal here? If you try Upstep insoles and aren't completely satisfied with the results, you can get your money back within 180 days. Buying a pair of Upstep insoles is a win-win proposition.
2. Best Stabilizing Insoles for Hiking Boots
Pros
Medium to high arch support

Stabilize foot on different terrains

Heel impact technology
Cons
Needs to be trimmed to fit shoes

Shifts around causing hot spots

Squeaky noise

Costly compared to alternatives
Superfeet Trailblazer Comfort insoles often have a deep heel cup and medium to high arch support to stabilize the foot on different terrain. Invariably, this reduces the stress on the feet, ankles, knees, and lower back.
Superfeet insoles are cushioned well enough to make the foot comfortable. They also have heel impact technology for optimal energy transfer during difficult ascents and descents. Unfortunately, they sometimes squeak and shift around in the boots as they may not fit properly, causing hot spots and blisters. However, they are trimmable to achieve fitting.
» Do you need insoles for other sporting activities? Discover the best arch support insoles for running and cycling shoes
3. Best Thick Insoles for Hiking Boots
Pros
Cushioned footbed

Built-in metatarsal pad

Different sizes available
Cons
Too thick for other shoes

Not custom-made

Does not fit all foot arches
SOLE Insoles have been clinically proven to be effective store-bought insoles, reducing the loading of the foot. Apart from a well-cushioned footbed, SOLE Active Thick insoles have a built-in metatarsal pad to increase the cushioning of the feet and forefoot comfort.
SOLE Insoles come in varying sizes and are suitable for most arch heights, ensuring one with a natural foot arch. They also fit well in hiking boots and are an affordable option.
4. Best Firm Insoles for Hiking Boots
Pros
Firm insole for pain relief and comfort

Maximum alignment

Different sizes available
Cons
Short-lived usage

Flatten out after regular use

May not find the correct size
While not specific for hiking, the Protalus M-100 Elite insole provides maximum alignment and support for all kinds of activities. It has a firm insole that guarantees pain relief and comfort.
Protalus insoles come in varying sizes so that you can get something as close to your foot size as possible. But they're not very durable as they flatten out within 4 to 6 months, compared to others that last as long as 12 months.
5. Best Shock-Absorbing Insoles for Hiking Boots
Pros
Different arch support heights

Varying sizes available

Extra firm medical-grade support
Cons
Rigid support may not be for everyone

Must trim them to fit shoes

Customer responsible for shipping

Longer waiting time
Tread Lab Pace insoles are one of the easiest insoles to accommodate. They provide arch support and improve foot alignment, thus relieving pain and making hiking more comfortable.
Tread Lab insoles come in four different arch heights: low, medium, high, and extra high arch height. They also come in different sizes, so you can find the best fit possible. However, this isn't as effective as custom orthotics that are made for your feet specifically.
» How beneficial are arch supports? Arch supports are beneficial to your feet and ankles
6. Best Pain-Relieving Insoles for Hiking Boots
Pros
Custom-made insoles

Made for sensitive feet

Extra cushion support
Cons
Pricey compared to alternatives

Long waiting period

Very noisy when placed in shoes
URthotics insoles are excellent for hiking boots despite being more expensive. Those who hike frequently and have feet that are particularly sensitive may benefit from URthotics Comfort insoles.
These insoles provide a lot of cushion and support, making them ideal for relieving foot pain. Using 3D imaging technology, they are tailored to each person's unique requirements, foot shape, and activity level.
7. Best Foam Insoles for Hiking Boots
Pros
Custom-fit insole

Flexible and provides arch support

Firm support
Cons
Customer has to pay for shipping

30-day product guarantee

Narrow width

Has to be trimmed to fit shoes
FitMyFoot Black Full-Length insoles are comfortable because they're custom-fit to give you the best arch support and flexibility possible when you perform your daily activities. This means they're firm enough to support you while hiking, but also flexible enough so your muscles can move appropriately in response to changing terrain.
Barring its sub-par returns policy that only lasts 30 days and requires you to pay for your shipping when returning an item, FitMyFoot insoles are a good choice for hiking boots.
Hike With Confidence and Comfort
Now that we've done all the hard work, you can weigh up your options and make an informed choice. While your decision is based on your specific needs, we recommend custom orthotics as the best choice. As the most accommodating and durable option, custom orthotics will provide the most support while hiking.
» How do you know if you need arch support? These factors can indicate you need arch support