7 Best Cycling Shoe Insoles to Provide Arch Support

By

Babafemi Adebajo

Reviewed by

Michelle Meyer
Updated May 25, 2023.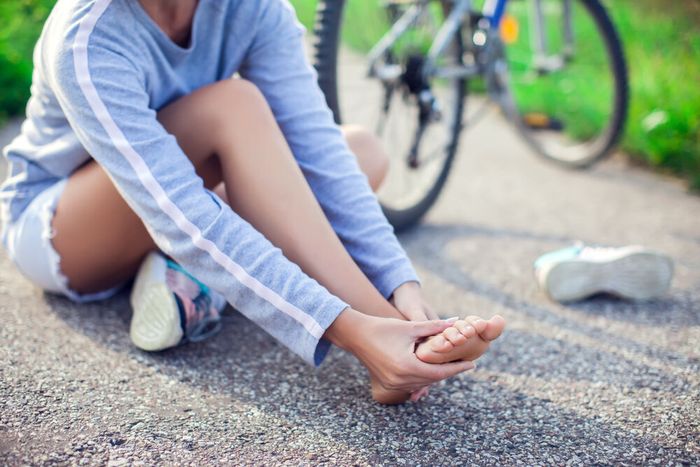 Compared to standard running insoles, cycling shoe insoles offer superior arch support, metatarsal padding, and deep heel cups, reducing foot strain during cycling. With the wrong insole, you risk underperforming and developing musculoskeletal problems that may hinder your cycling in the future.
Choosing the right insole can help you avoid this. That's why we've sifted through the market to help you identify the best insoles for your cycling shoes. Here are our top seven picks and why they qualify.
» Will cycling orthotics help your performance? See the benefits of cycling orthotics
Top 7 Insoles for Cycling Shoes with Arch Support
Best Overall Cycling Insoles:

Upstep Cycling Custom Orthotics



Best Firm Fit Insoles:

Tread Labs Lael Wilcox

Best for Comfort Insoles:

Superfeet Trailblazer

Best Cork Insoles:

SOLE Performance Medium

Best Thin Insoles:

Protalus T-100 Elite

Best Shock-Absorbing Insoles:

URthotics Sports

Best Foam Insoles:

FitMyFoot Red Hexagon
1. Best Overall Cycling Insoles
Pros
Custom-made by top podiatrists

Optimal support and cushioning

180-day money-back guarantee

FSA and HSA eligible

Free shipping and returns
Cons
Short waiting period before receiving orthotics
When it comes to finding the best insoles for cycling, Upstep is the clear winner. Their custom cycling insoles are made with the highest quality and most durable materials, providing optimal support and cushioning during cycling. But what sets Upstep apart from the rest is its commitment to affordability. These insoles are reasonably priced, making them an excellent choice for cycling enthusiasts on a budget.
What's more, Upstep offers a 100% money-back guarantee on their product for 120 days, with free shipping and returns. And for those who have a Health Savings Account (HSA) or Flexible Spending Account (FSA), Upstep insoles are eligible for reimbursement, making them an even more attractive option for those looking for quality and affordability. With Upstep, you can be sure that you're getting the best cycling insoles for your money.
2. Best Firm Cycling Shoe Insoles
Pros
Made from carbon fiber

Firm arch support

Thin ventilated top cover
Cons
Not customized

Different arch heights

Narrow heel fit

Shipping fees are not included
For cyclists who prioritize firm arch support, Tread Labs Lael Wilcox insoles are an excellent option. These insoles are crafted from 100% carbon fiber arch support, making them incredibly rigid and efficient at returning energy during each pedal stroke.
Ideal for cycling shoes with thin or no inserts, Tread Labs offers four different arch heights to accommodate varying support requirements. While they may not offer a perfect fit for all users since they're one-size-fits-all insoles, they are still a viable choice for cyclists seeking high-quality arch support in their cycling shoes.
» Read more: explore the best cycling shoes for flat feet
3. Best Comfort Insoles for Cycling Shoes
Pros
Wide forefoot design

Deep heel cup

60-day money-back guarantee
Cons
Made for medium to high arch height

Need to trim insole to fit shoe

Takes up a lot of space in shoes

Not custom-made
The Superfeet Trailblazer insoles are an excellent choice for cyclists experiencing back and hip pain. These insoles have been designed to improve power transfer and reduce internal knee rotation, which can alleviate discomfort in the hip and lower back. The wide forefoot and deep heel cup are also ideal for those with wider cycling shoes.
While these insoles do not have a specific arch height in mind, they can still provide overall comfort and support to the foot during cycling. It's worth noting that these insoles may not be suitable for those with specific foot problems requiring customized arch support.
4. Best Cork Insoles for Cycling Shoes
Pros
Made with ReCORK recycled wine corks

Shock absorbing

Moldable orthopedic base
Cons
Takes time to get the perfect fit

Best suited for medium-fitting shoes

Must be trimmed to fit shoes

Medium cushioning
SOLE performance medium insoles are an eco-friendly option made from recycled wine corks, which offer excellent shock absorption for cycling shoes. These insoles come with metatarsal pads that improve forefoot comfort, making them an ideal choice for cyclists who experience discomfort in this area.
However, wear-moldable design means they may take some time to adjust to the shape of your feet, unlike custom-made orthotics that offer immediate support and comfort. Overall, these cork insoles are a great option for cyclists looking for an environmentally-friendly and shock-absorbing solution for their cycling shoes.
5. Best Thin Insoles for Cycling Shoes
Pros
Different sizes available

Thinner than other insoles

Moisture-wicking materials
Cons
Difficulty fitting to shoe

Trimming may impact performance

Not custom-made

Higher heel arching
The Protalus T-100 Elite insoles are designed specifically for low-volume cycling shoes with removable inserts and provide excellent arch support with a thin and lightweight design. These insoles are available in various sizes, making it easier for users to find a perfect fit.
Protalus insoles offer both cushioning and alignment support to help reduce foot fatigue and discomfort during long rides. However, due to their slim profile, these insoles may not fit perfectly in all shoes, even with trimming, which may impact their effectiveness as cycling insoles.
6. Best Shock-Absorbing Insoles for Cycling Shoes
Pros
Custom-made orthotics

FSA and HSA eligible

Lightweight and durable
Cons
More expensive than alternatives

Longer waiting period

Thicker insole base
URthotics Active Insoles are a top choice for cycling enthusiasts who desire shock absorption and durability. These insoles are designed with custom arch support that follows the natural contours of your foot, providing excellent comfort and stability. The top layer of the insole is made from high-quality EVA material, which is known for its durability and long-lasting performance. The deep heel cup design maximizes protection and helps to alleviate pain.
Although these insoles are pricier than some other options on the market, they are eligible for HSA and FSA plans, making them a great investment for those looking for a durable and effective cycling insole.
7. Best Foam Insoles for Cycling Shoes
Pros
Prevents foot and leg fatigue

Made through 3D technology

Improves body alignment
Cons
Not specifically made for cycling

Smooth insole covering

Cannot be trimmed to fit shoe

More costly than alternatives
FitMyFoot's Custom Arch Support Insoles are one of the best foam insoles for cycling shoes, specifically designed for athletic use. These insoles are custom-made to fit your feet perfectly, using state-of-the-art 3D printing technology to ensure a snug fit. The dynamic tuned arch design provides custom-positioned support in specific areas of the foot while remaining flexible in others, allowing for optimal energy transfer during cycling.
Additionally, these insoles come with a deep contoured heel cushion that provides all-day shock absorption and cushioning, relieving heel discomfort and preventing foot fatigue. The breathable fabric helps to keep your feet cool and sweat-free, making them perfect for intense cycling sessions. Overall, these durable and comfortable insoles are a great investment for any cycling enthusiast.
» Considering over-the-counter insoles? Compare custom orthotics vs OTC insoles
Transform Your Cycling Experience
If you're looking to enhance your performance, reduce your risk of injury, and transform your cycling experience from just an activity to something you truly enjoy, investing in custom orthotics is the way to go. With custom orthotics, the insoles are molded to fit your feet perfectly, providing the optimal support and cushioning you need to reach your potential on the bike.
So why settle for generic insoles when you can have a personalized solution that's tailored to your unique needs? Upgrade your cycling game with custom orthotics and see the difference for yourself.