Running With Orthotics: The Best Arch Support Insoles

Reviewed by

Joel Taylor
Updated March 29, 2023.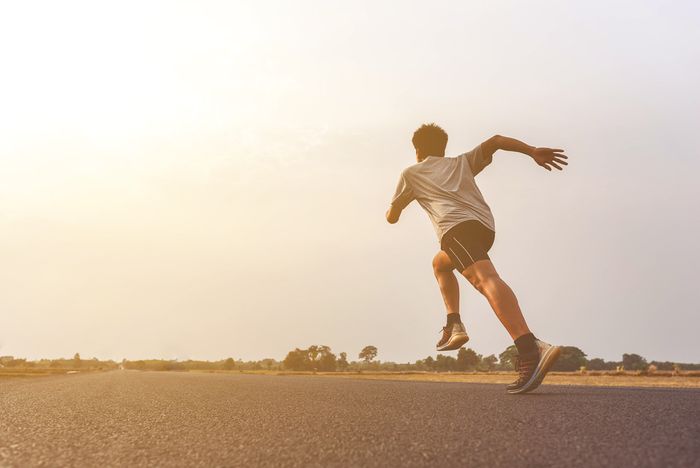 Whether to use foot supports for running or not is a common question that comes into the mind of most runners.
Not everyone necessarily needs an insole for running, such as perfectly healthy individuals who have never experienced foot pain or excessive fatigue. However, orthotic insoles don't have to be reserved for those with debilitating conditions and chronic pain.
How to Tell if You Need Insoles for Running
To know if you need additional insoles or not while running, there are 2 questions you need to ask yourself:
Do your feet hurt in the arch area while or after running?

This could indicate fatigue or a collapsed arch, leading to the pain you experience and reduce running efficiency over longer distances.

Do you notice that your shoes are worn down on the inner side of the sole?

This could indicate pronation or an inward roll of the foot while running, resulting in a worn-down sole.
If your answer to either of these questions is a yes, then there is a high chance that you probably do need a pair of insoles. The insoles will support your foot arch while running, lessening the strain placed on the inner aspect of your foot and preventing an inward roll of your foot or ankle. But, if the answer to both of these questions is a no, then you might not necessarily need to use insoles while running. Though they might still benefit you, they aren't a necessity.
» What foot areas are most painful after running? Discover why you feel pain in your foot arch and the balls of your feet after running
The Best Insoles for Running
Depending on the type of exercise you're engaging in, and even the running style, the insoles should be specific to adhere to and meet the demands of those activities.
It's also important to understand that using insoles for a particular activity can't be done with a one-size-fits-all approach. Whether you need harder or softer materials depends on your specific situation as much as the type of exercise you're doing. For instance, running inserts for plantar fasciitis would not necessarily be the same as the best running insoles for pronation or supination, regardless of the intensity of the running (marathons compared to sprints).
Pros
Custom-made

FSA & HSA eligible

180-day money-back guarantee

Free shipping
Cons
Short waiting period before receiving orthotics
Upstep's Custom Running Orthotics are designed by professionals with high-grade, durable materials based on a mold of your feet. These custom insoles aim to support your feet through cushioning and impact absorption, thereby preventing your arches from collapsing and restoring your normal foot mechanics. This makes these insoles particularly beneficial for those running with flat feet.
» Read the running custom orthotics review
Pros
Eco-friendly base

Odor control

90-day guarantee
Cons
Not custom-made

Heating and molding process can cause an incorrect fit
The Sole Performance Medium Insoles offer optimal comfort to the forefoot and arch through the in-built metatarsal pad. These insoles provide effective arch support and have well-cushioned soles that reduce the shock placed on your feet during running activities. However, these insoles are not custom-made. Instead, you must heat them up to mold them to your foot shape, thereby increasing your risk of an incorrect fit.
Pros
Removable heel stabilizer

60-day guarantee

Free shipping
Cons
Requires trimming which can compromise its support
Superfeet Run Pain Relief Insoles easily fit within an active lifestyle by providing arch support and cushioning, and limiting the impact onto your heels while you run. These insoles must be trimmed to fit, so be careful to trim correctly and not compromise the support you need from the insoles.
Pros
Anti-slip ridges

Higher sides

90-day money-back guarantee
Cons
Available in limited sizes
The Protalus M-75 Insoles are affordable and aim to improve your arch height. Because these insoles come up higher on the sides (especially the medial side), they reduce the pressure on your feet and correct your alignment. However, these insoles are available in limited sizes and reduces your chances of finding the ideal fit.
Pros
Medical-grade support

Million mile guarantee

Free shipping
Cons
Limited arch heights available
Tread Labs Pace Short Insoles feature extra firm arch support and are ideal if you have flat feet and want to prevent discomfort or pain from running. The insoles are durable and effective in preventing overpronation, making them helpful in supporting your foot arch. You can choose between four different heights to find the best fit, however this will not be as effective as custom insoles.
» If you're not a runner but struggle with your arches, then discover the best insoles for high arches
Should You Invest in Insoles?
With all the benefits of arch support listed above, it's highly recommended to purchase a pair of custom-made insoles that will meet your individual needs and foot shape. Orthotics are supposed to make your daily living and sport more comfortable and pain-free, in addition to reducing the chance of future injuries.
FAQ Running Shows Insoles
Can You Use Your Existing Insoles in Your Running Shoes?
If your existing insoles fit comfortably into your shoes and don't slide around, then you can use them. If you use arch support insoles for flat feet, you'll probably need them for running as well. However, an insole specially made for running would be better as the biomechanics of your body change while running, and the insole needs to meet those demands.
Should You Change the Insoles of Your Running Shoes?
Different pairs of running shoes have different insoles. Some can be removed, and some cannot. If your exercise shoes have removable insoles, then you should remove them and replace them with your new pair of custom or prefabricated ones instead. However, if your exercise shoes don't have removable insoles, it's important to specify this when buying your new insoles to ensure they can still fit comfortably within your shoe.


» Running a marathon soon? Discover the best insoles to prevent injury while running a marathon