7 Best Tennis Shoe Inserts to Prevent Strain on Your Achilles Tendon

By

Janik Sundstrom

Reviewed by

Michelle Meyer
Updated March 28, 2023.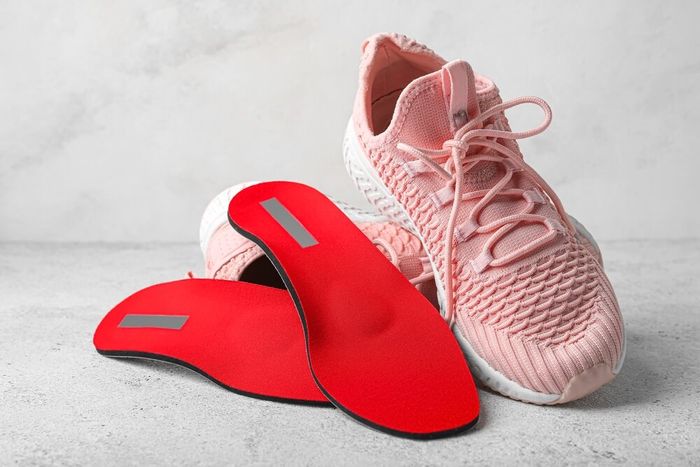 There may be a variety of causes for the pain you experience in the lower part at the back of your leg, just above the heel bone—otherwise known as your Achilles tendon. Overloading your Achilles tendon through exercise, for example playing tennis, causes the fibers of the tendon to break down, leading to pain and inflammation. Without proper management, including rest, the pain will progressively get worse.
Orthotics are commonly used to reduce the tension placed on the Achilles tendon, thereby reducing the chances of a repetitive strain injury. However, with so many options on the market, it can be difficult to choose a quality insole. But not to worry! Below we list the 7 best tennis shoe inserts for your consideration.
» What are the symptoms of Achilles tendonitis? Discover causes and treatments of Achilles tendonitis
Upstep's Achilles tendon custom orthotics are specially made for your unique foot shape and needs. Make your foot molds in the comfort of your home before sending them to Upstep's specialist podiatrists to craft your personal orthotics.
The orthotics are made from high-grade materials and designed to unload the Achilles tendon during physical activities. These custom orthotics are made to fit your lifestyle and are a cost-effective way of managing this condition in the long term.
» Can you run with Achilles tendonitis? Explore the best arch support insoles for running
Upstep tennis custom orthotics are ideal for those looking for great support and comfort while playing tennis, both for grass- and hardcourts. The EVA materials used in the custom design work to improve the dynamic range of your feet, while reducing the chance of developing Achilles tendonitis during your tennis activities.
Upstep orthotics are cast in the comfort of your own home and returned to you upon completion. Orthotics purchased from Upstep qualify for a 120-day money-back guarantee and are made from high-quality, durable materials. If you're not a tennis player, then you can rest assured, as Upstep has the best insoles for achilles tendonitis.
» Need to up your game but struggling with plantar fasciitis? Discover the best insoles for tennis
The specific design of the Superfeet Flex insoles aims to cradle your heels within your shoes, improve comfort, and provide structure to your feet during your physical activities. The orthotics are made from durable materials, aiming to last you for the longer term.
However, the Superfeet Flex insoles aren't made according to the unique shape of your feet, therefore you may not reach maximum comfort when making use of these insoles. Custom orthotics are produced for the exact size of your feet, thereby providing the best support and comfort for your feet.
This insole is designed to support the metatarsal (forefoot area) of your foot and reduce impact with the ground during physical activities. The insole promotes the natural positioning of the foot under strain, while providing a stable surface for you to move off. 
However, these insoles are more geared toward providing support and comfort in hiking boots, winter shoes, and work boots. Therefore, they might not be optimal for your sporting needs.
The Protalus T-75 is a moderate-degree arch support orthotic aimed at providing comfort and alignment to your feet. The insoles distribute the weight on your feet throughout the entirety of your foot, thereby reducing pressure. 
These orthotics are well suited for standard volume or low-profile shoes, so may be a tight fit when wearing them with your tight-fitting tennis shoes. Other insoles may be better options to provide you with the maximum support and comfort you require.
The Tread Labs Dash Short insoles are designed to provide ultra-thin firm support for people partaking in physical activities, specifically for those that have flat feet or very low arches. These insoles can be used comfortably with tight-fitting dress shoes, ballet flats, or footwear without removable inserts. 
The insoles come in four different arch heights. Choosing the correct height for your foot may prove difficult and may not give you optimal comfort and performance.
The FitMyFoot 3/4 Length Insoles (Orange) are designed to reduce foot pain and achieve better body alignment. The insoles also aim to provide foot comfort and improve the stability of the lower leg complex.
However, some users report not feeling maximal comfort when wearing these inserts or that the entire foot is not supported. Additionally, there are reports of the insole not fitting optimally inside the shoe either.
Final Verdict
While the final decision of which insoles to purchase depend on you, your needs, and your budget, we recommend custom orthotics. Based on your feet, custom orthotics will address your needs and provide optimal support and comfort, as opposed to generic, over-the-counter insoles. Invest in a long-term solution that will only be beneficial to you.
» Are orthotics beneficial to all athletes? Different athletes experience different benefits from custom orthotics