How to Prevent Bunions from Developing and Getting Worse

By

Janik Sundstrom

Reviewed by

Romi Hector
Published May 23, 2022.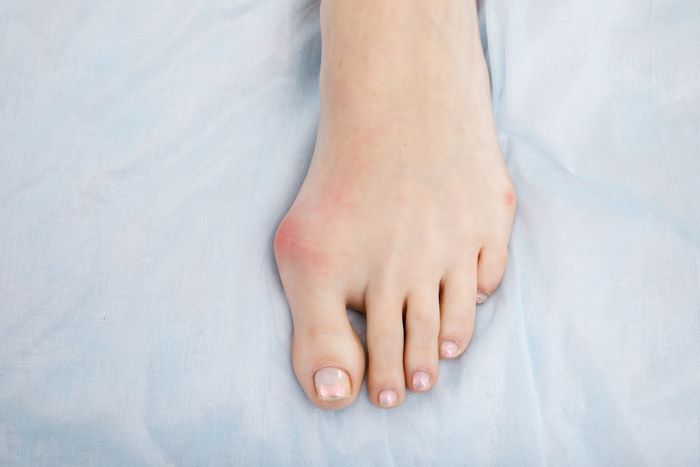 Bunions, often confused with bone spurs, occur commonly among the older population and are characterized by an outward movement of the big toe, leading to the development of a bony bump at its base. The ligaments become lax due to pressure placed on the joint over time, eventually causing the big toe to turn outwards toward the other toes. In most non-severe cases, this condition does not have symptoms of pain. It may have mild symptoms of pain in severe cases.
Bunions can also appear as a bony lump on the outer part of the pinky toe, which is also known as a tailor's bunion.
Causes of Bunions
There are several causative factors in the development of a bunion. Ill-fitting shoes and rheumatoid arthritis are the most common causes of bunions. The risk of developing bunions increases depending on footwear choices, connective tissue disorders, age, sex, and genetics. Flat feet and rheumatoid arthritis can significantly increase your risk of developing a bunion. Shoes with a small toe box may cause the toes to be guided into unnatural positions or squeeze them together. This can lead to ligament laxity and potential deformity over time. 
Symptoms of bunions include:
Visible bump around joint of the big toe 

Outward movement of the big toe towards the second toe

Callus around the bump caused by increased pressure on the tissue

Stiffness or reduced range of motion in the big toe 

Pain and tenderness in the joint

Limited ability to walk
How to Prevent Bunions
Make sure you effectively manage other conditions that could lead to the development of bunions. You can prevent the development of bunions by limiting the amount of pronation in the foot and stress applied to the big toe. This can be done by distributing the weight onto the entire foot and lessening the amount placed onto the big toe by using orthotics. Managing conditions such as rheumatoid arthritis and other foot deformity-associated conditions will prevent the development of bunions in the future. 
Toe exercises for bunions can be done daily to slow down the development of bunions alongside other exercises. These can be done when you notice the early signs of bunions.
Toe exercises

Start by sitting with your feet out in front of you in a comfortable position. Attempt to fan your toes apart. Hold for 5 seconds and release. Repeat 10 times per foot. 
Marble pick-ups

Start by sitting with marbles, or any other small round objects, placed on the floor in front of you. Pick up the marbles with your toes and put them in a cup. The squeeze needed to collect the marble and pick it up will strengthen the intrinsic muscles of your foot. Place 10 marbles into the cup and repeat on your other foot. 
Towel grip

You can start by sitting with your feet placed on a towel with your toes facing forward. Attempt to push your toes forward toward your heel, squeezing the muscles of the sole of your foot. Hold for 10 seconds and relax. Repeat 10–12 times. This will strengthen your foot muscles, aiding in mobility and injury prevention. 
How to Stop Existing Bunions From Getting Worse
Shoe inserts for bunions and other orthotics specifically designed to prevent bunions will effectively slow the bunion's rate of progression. These orthotics aim to maintain the alignment of the big toe and prevent the bunion from getting worse. Bunion correctors like bunion pads help distribute weight through the entire forefoot. Toe separators may also be a great way to maintain the gap between the first and second toes when wearing a tight-fitting shoe.
Choosing the correct footwear when you have bunions is extremely helpful in not aggravating the condition further on a day-to-day basis. Choosing shoes with a wide toe box, soft sole, and adequate stability should not aggravate your symptoms. Avoid shoes that are tight, narrow, or have high heels, as this could aggravate your symptoms further.
Is It Possible to Get Rid of Bunions? 
It's difficult to completely fix bunions without surgery as this condition progresses naturally as the ligaments get further lax with use and age. Reducing the amount of pressure placed on the joint will slow down the progression of the deformity. Orthotics for bunions and bunion pads are a cost-effective and safe way to reduce the pressure on the affected joint. Using arch supports in combination with other conservative treatments is also a good option for treating bunions. Exercises can be done in conjunction with the orthotics to aid in restoring and maintaining alignment of the joint while walking or running. 
Wearing shoes that provide enough toe space and do not compress the big toe will also slow the progression of a bunion, as mentioned above. Medication can be prescribed by a medical professional to relieve any pain and inflammation that you may be experiencing.
In severe cases of bunions where conservative options have failed, a medical professional would suggest surgery to correct the deformity and alleviate pain or discomfort. A host of different surgeries can be performed as a last resort.
If you are experiencing increased pain in your feet, consult with a medical professional to determine the cause.