Insoles for Standing and Walking All Day—2023 Review

By

Babafemi Adebajo

Reviewed by

Korana Braun
Updated August 17, 2023.
Our team of physical therapists and orthopedics researches and recommends the best custom orthotics by Upstep. Our reviews are unbiased and provide accurate information about the products reviewed.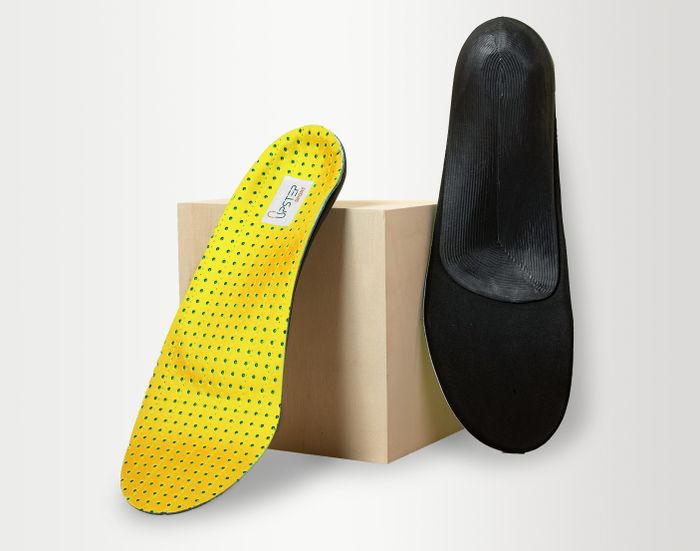 Your feet can only take so much strain before your body shows signs of stress, particularly in those who stand or walk for prolonged periods.
Being on your feet for more than four hours a day can cause leg swelling, muscle fatigue, lower back pain, neck stiffness, and other musculoskeletal disorders. Invariably, these lead to pain and discomfort in the body, especially in the feet.
While there are several ways to treat foot discomfort and pain, insoles are well recommended. Read on to find out why Upstep's custom insoles for standing and walking all day are one of the best treatment options.
How Insoles Help Someone on Their Feet All Day
Most shoes are not designed to accommodate excessive strain or to relieve pain, but insoles can help bridge this gap. As layered inserts, insoles can be placed inside a shoe to reduce stress on the feet. They cushion the feet, absorbing the impact on the muscles and joints of the leg caused by prolonged standing or walking. Reducing the strain put on the feet eliminates muscle fatigue and joint pain.
Upstep's shoe inserts for being on feet all day can help with reducing the strain while also helping keep the foot in the proper position or realign the foot, correcting posture and preventing deformity. They are custom-made by podiatrists and specifically designed for your feet. As such, Upstep's On My Feet All Day custom insoles ultimately enhance stability and stamina.




Foot Conditions That Insoles Help With
Examples of conditions that may require insoles are plantar fasciitis, Achilles tendonitis, flat feet, heel pain, sprains, and many more. With a good pair of insoles, these conditions are easily treatable in their early stages before they lead to severe foot pain and deformities. They are also excellent for preventing these conditions from developing due to being on your feet all day. Upstep's custom orthotics are voted the best insoles for flat feet for standing all day by thousands of satisfied customers.
Before using the insole, ensure they are a proper fit for your shoe. When it comes to usage, you don't need to wear them excessively but wear them while you're standing or walking for more than a few hours at a time. It's advisable to get at least two pairs of insoles to fit in different pairs of shoes, so they are readily available and don't need adjusting every time you change your shoes.
Price of Insoles for Prolonged Standing and Walking
On average, custom insoles for standing and walking for long periods cost between $200 and $800. Upstep's custom insoles for standing and walking all day, however, cost 60% less than many other custom orthotics. They only cost slightly more than over-the-counter orthotics, even though they are made from superior quality materials, are more durable, and are tailored to the exact shape of your foot. There is also a discount for ordering two or three pairs of insoles from Upstep.
On My Feet All Day, as well as all other Upstep's custom insoles, come with a 180-day return policy. During this period, you can return the insoles for free and order a new pair to be made if you're not satisfied with the quality or fit. Moreover, Upstep allows four interest-free payments using Klarna, and they are covered by insurance. This means any purchase of an Upstep insole is eligible for a refund under the FSA and HSA plans.
Why Upstep's Insoles Are Best for Standing and Walking All Day
180-day money-back guarantee

FSA & HSA eligible; Klarna eligible

Free shipping and returns
Insoles from Upstep are easily the best choice when choosing custom orthotics for people who stand or walk for prolonged periods. They are designed by seasoned podiatrists using top-quality materials. You don't need to visit a physical store, as Upstep sends a foot impression kit straight to your home with a prepaid shipping label so you can return the foot impression kit for free.
Using the foot impression kit, Upstep makes your well-cushioned custom insoles. The cushioned materials are in the top and mid layers to make the foot more comfortable while on your feet often and act as shock absorbers. Upstep's On My Feet All Day custom orthotics also contain rigid materials to support the foot arch during activities. The basal layer is made from temper-weave and breathable materials to prevent moisture and limit odor. They may also have additional features to help relieve pain and discomfort for your specific condition.
Pros
Custom-made by top podiatrists

Conveniently purchased from home

Made from high-quality materials

Durable Polypropylene shell

Relieve foot pain from standing and walking for 4+ hours

Eliminate foot pain from standing on concrete and other hard surfaces

One of the best insoles for arch support on the market
Cons
Brief waiting period before they arrive
When you compare the relief you get from these insoles with their price, it's quite clear why anyone who has to stand or walk for long periods should choose Upstep's On My Feet All Day, custom shoe inserts for walking all day, over other custom orthotics or over-the-counter insoles. Order yours today to see for yourself why Upstep's custom orthotics are the best insoles for standing and walking all day!